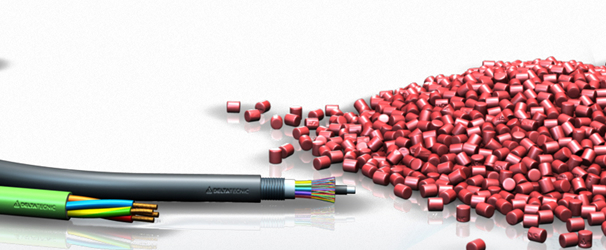 Color concentrates and additives
Europe News
- October 2021
- Image: Courtesy of Delta Tecnic
Cable extrusion has become a key factor for the advancement of renewable energies, such as wind and photovoltaics, as well as the deployment of low-voltage cabling or fiber optics. However, multiple solutions and flexibility are needed to respond to the requirements.
This drive to replace and modernize structures wherever possible is leading to a situation in which cabling must have a number of advantages. Whether it is cables used for solar, wind or hydro power supply, or for longer transmission lengths, lighting, robotics and transport infrastructure, these are relevant for any manufacturer.
Delta Tecnic, a masterbatch producer, is emphasizing its commitment to technological and energy advancement, offering companies a broad portfolio of color concentrates and additives designed to work in high-rigor compounding formulations, from PVC for THHN/THHW/THW in RAL and Munsell colorings, HFFR in EVA/PE, or PE for crosslinking. They are also formulated in masterbatch with UV, AO and repellent additives.
Delta Tecnic produces color concentrates in standard pellet sizes as well as micropellets. Understanding the challenges faced by manufacturers around the world, the company carefully selects the right pigments for dilution and dispersion in the polymers and compounds used.
These selections facilitate high-speed production with color consistency, as well as maintaining electrical insulation and fire-resistance requirements, including recent CPR regulations. In addition, Delta Tecnic offers its expertise to match the custom color to suit the customer's needs, as well as its raw material bases for the subsequent creation of the desired color.