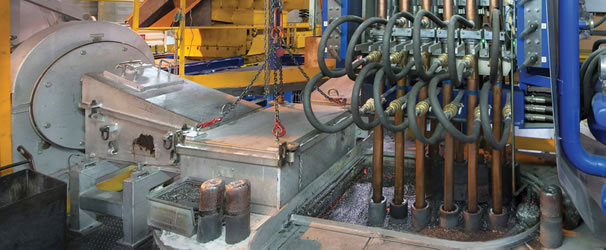 Integration of machinery safety requirements
Europe News
- July 2021
- Image: Upcast evaluates and analyses risks, and minimizes them through technical methods
The EU Machinery Directive was originally published in 1998, and the current version was accepted in 2006. Its purpose is to integrate regulations and requirements with regard to the safety of machinery and equipment, and remove trade barriers by increasing the free movement of goods within the EU/ETA.
The Machinery Directive is becoming more widely acknowledged around the world, including in Turkey, Norway and Switzerland.
Upcast Oy considers machinery safety to be a matter of honor. The basic requirement in the design of a casting line is to guarantee that the line is of high quality, it is easy to operate, and all possible risks related to health and safety are taken into account.
Upcast has gathered know-how and experience of these aspects over decades. The company's design actively utilizes the EN standards for machinery safety, which ensures that the solutions are tested and proven to be good. The team evaluates and analyses risks, which are then minimized through technical methods. With regard to any possible remaining risks, the customer will be informed during training as well as in dealing with operating instructions and warning signs.
Knowing in detail the methods related to and determined in the EU directives, EN standards and the Machinery Directive represents an advantage in the market. The buyer also has a responsibility to check and ensure that the supplier has sufficient knowledge and experience in the field of machinery safety and can deliver safe machinery and equipment.
Although lines are designed and built to meet the highest safety requirements, substantial responsibility for the safe operation of machinery remains with customers and their operators. The safety equipment must not be removed or modified, the original spare parts and consumables should be used, and customers should invest in their own safety culture in order to maximize the machinery safety of the casting line.
Receiving feedback such as close-call reports and development suggestions from customers helps Upcast Oy to improve its lines and machinery safety.