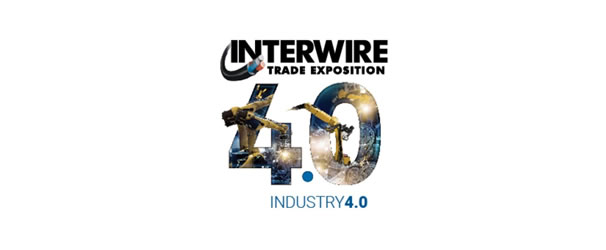 Interwire to feature Industry 4.0 pavilion
The Wire Association International (WAI) has announced that the inaugural Industry 4.0 pavilion is to be introduced at the Interwire 2021 Trade Exposition, October 26-27, 2021, at the Georgia World Congress Center, Atlanta, Georgia.
The Industry 4.0 pavilion will illustrate how machine learning, automation, artificial intelligence, big data, analytics, IoT, predictive maintenance and other factory and machine enhancements can positively affect the way wire is made and how well manufacturers compete on the world stage.
As a collaboration between the WAI and Messe Düsseldorf North America (MDNA), the pavilion will feature displays and educational briefings from Advaris, Cimteq, Davis-Standard, 40Factory Srl, InnoVites, MFL Group, MindSphere World Italia, Oden Technologies, Parsable, Rockwell Automation, Sikora and Troester.
Commenting as one of the key organizers of the Industry 4.0 pavilion, Richard Baker, vice president of engineering, Prysmian Group North America, referenced the technical presentations that will showcase the latest technologies of the 4th industrial revolution, and said that companies will demonstrate how Industry 4.0 technologies are applicable to wire and cable manufacturing and how the efficiency of equipment and processes can be significantly enhanced through their use.
Willem Sundblad, cofounder and CEO of Oden Technologies, said, This is an excellent opportunity to meet your customers, meet your suppliers, and network with your peers. Visitors are invited to learn about Industry 4.0 and find out where to start their digital journey, because it is a topic on everyone's mind.
The 2021 staging of Interwire will mark 40 years since its inception. Hosted biennially, Interwire is an international trade event that includes exhibiting companies, speakers, and visitors from more than 50 countries.