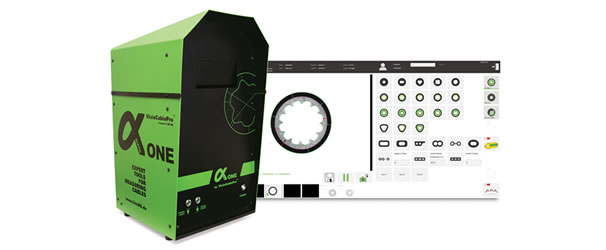 Quality control directly at the extruding line
Europe News
- July 2021
- Image: The new AlphaOne including Velox software by VisioCablePro
Time efficiency, connectivity and short distances are some of the factors that define modern production. The optimization of these variables presents manufacturers with a challenge. The new AlphaOne automatic wall thickness and cross-section measuring device from VisioCablePro® is a complement to the company's VCPX5 all-rounder.
Compared to the larger VCPX5, AlphaOne is equipped with only one image field, depending on the outer diameter range. The idea behind this concept is very simple: within a cable factory, various intermediate stages such as cores and jackets are produced on different extrusion lines, whereby the diameter range of the cables produced by an individual extrusion line remain relatively constant. For this reason, the AlphaOne is placed directly next to the individual lines and saves time-consuming walking distances for the intermediate tests. It also allows quicker intervention in the process.
Due to its compact design, multiple measuring devices can be placed at each production line within a factory.
As with all VisioCablePro products, the AlphaOne is based on the most important international standards (eg IEC 60811, LV112, ICEA S-94-649-2013) and fulfills all requirements in combination with the new Velox cable measuring software. This software enables direct connection between measuring devices and a customer's existing adapted CAQ software, or with VisioCablePro's own CAQ software, ProCable 3.
As well as a backlight for measuring one-layered samples (similar to a shadow-graph/profile projector), the AlphaOne has a white frontlight that can be used to measure a large number of simple, multi-layered samples.
The in-house developed intelligent colored frontlight — Lumimax® — in combination with higher resolution monochrome cameras designed for complex multi-layer samples will remain a feature of the VCPX5 cable measuring device, as this all-rounder has a more versatile field of application and a larger diameter range (up to three measuring fields from 0 to 150mm).
Operation of the AlphaOne is simple and intuitive. The lighting conditions are directly set via a hardware button on the device. With preset/default light and camera parameters and a fixed working distance from the sample, user influence is reduced to a minimum.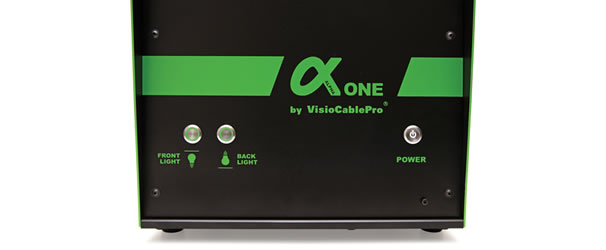 Although the AlphaOne does not have the built-in touchscreen PC found on the VCPX5, it can be integrated into a company's internal hardware landscape via a Windows PC provided by the customer, or can be configured with a separate all-in-one touchscreen PC.