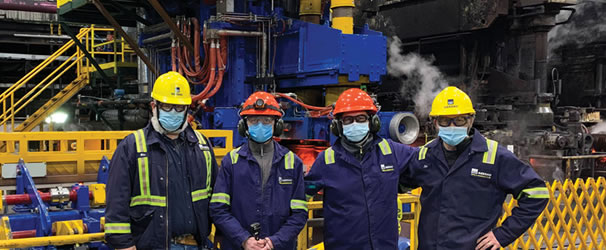 Rolling mill performance improvements in Canada
Europe News
- July 2021
- Image: The Gerdau GLN mill upgrade has been commissioned
Automazioni Industriali Capitanio (AIC) has commissioned a rolling mill upgrade at the Gerdau GLN plant in Cambridge, Canada. Improved performance and safety have been achieved with the installation of new electrical and automation systems.
GLN (Gerdau Long Steel North America) manufactures structural steel, piling, rebar, merchant bar and special bar quality products for the agricultural, automotive, civil construction, distribution, energy, industrial and mining markets.
The scope of supply included design, manufacture and test of the new R0 stand; safety devices; all on-machine sensors and cabling installation; integration of the new equipment with the existing IBA platform; auxiliary drives for furnace run-out roller table and pinch roll; PLC and HMI software development; equipment tests, supervision of erection, commissioning, training and production assistance; and spare parts.
Commissioning was completed despite the global restrictions, and the customer was said to be very satisfied with the results. The customer is able now to roll larger billets, and produce rolled billet sizes that are uniform with other mills within the same group.
AIC is a global system integrator providing advanced and tailored automation and robotic solutions for the steel industry, with the aim to improve efficiency, competitiveness and safety of production processes.