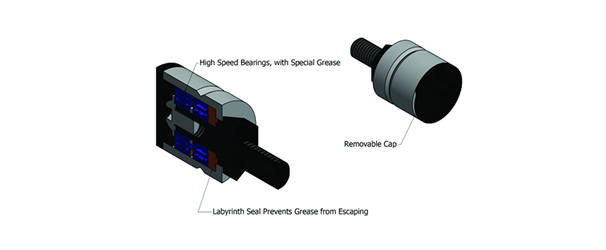 Dead block straightener for speed and efficiency
USA News
- June 2021
- Image: A cutaway diagram of the Dead Block roll
Based on the LD series of straighteners, Sjogren's Dead Block model is a lightweight aluminum wire straightener that provides a simple solution while maintaining a high level of rigidity.
A specially designed seal enhances the life of the rolls by maintaining the high-speed grease within the bearings. The custom high-speed bearings and labyrinth seal were developed to resist the centrifugal forces of a dead block while processing wire at speeds up to 40m/second.
Sjogren's grooved rolls are easily interchangeable and offer varying roll designs with either vee groove or radius groove profiles. Customized base plates help ensure proper weight and balance when replacing current straighteners.
Founded in 1927 by Oscar Sjogren, the company designs and manufactures customized solutions for the wire tooling trades. Sjogren Industries delivers machinery, tooling and accessories to a worldwide customer base with distributors located in Europe, South America, Asia and Mexico.