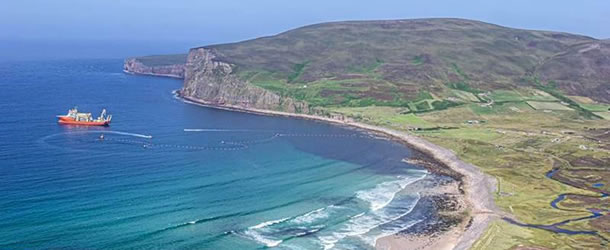 Replacement project
Europe News
- November 2020
- Image: Courtesy of SSEN
Global Offshore, in partnership with Scottish and Southern Electricity Networks (SSEN), has replaced the Pentland Firth East subsea power cable connecting Orkney to mainland Scotland. SSEN identified the cable for replacement after routine inspections found it was nearing the end of its operational life.
Global Offshore used the specialist marine vessels Normand Clipper and Global Symphony to install the new 37km 33kV cable. Working in partnership with Aviemore-based McGowan Environmental Engineering, the installation of the new subsea cable also allowed for the removal of approximately 7km of overhead power lines in Rackwick, Hoy, and their replacement by underground cable.
Mark Rough, SSEN director customer operations, said: The Pentland Firth East project is one of the biggest stand-alone projects we've completed in the north of Scotland, and we'd like to thank our contract partners, archaeological and ecological experts, engineering teams, and local suppliers for their professionalism and dedication to ensure the successful delivery of the subsea cable installation and land-based works on Hoy.
SSEN has undertaken a program of investment to replace around 90km of submarine cables that connect Scotland's island communities.