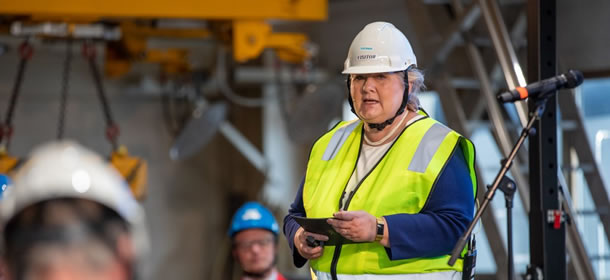 World's largest floating facility gets underway
Europe News
- October 2020
- Image: Øyvind Gravås - WoldCam / Equinor ASA
Construction work has begun on Norway's floating offshore wind farm, Hywind Tampen, at Kværner Stord, said to be the world's largest floating offshore facility.
Developer Equinor's president and CEO, Eldar Sætre, said: Hywind Tampen is a new chapter in Norway's narrative as an energy nation. With support from the Norwegian authorities, we're not only building Norway's first offshore wind project; we're refining floating offshore wind technology along with the Norwegian supplier industry.
He continued: Eighty percent of the world's offshore wind resources are located in deep water areas and are available for floating offshore wind projects. If we can use projects like Hywind Tampen to make floating offshore wind competitive with other forms of energy, the technology will be able to deliver large-scale renewable power and contribute to a more sustainable global energy supply. A floating offshore wind market will also open up considerable industrial opportunities for Norwegian industry.
The Hywind Tampen project is thought to be the first floating offshore wind project to supply renewable power for oil and gas installations. The wind farm will have a total capacity of 88MW, and is expected to cover about 35 percent of the annual power needs on the five platforms Snorre A and B and Gullfaks A, B and C.