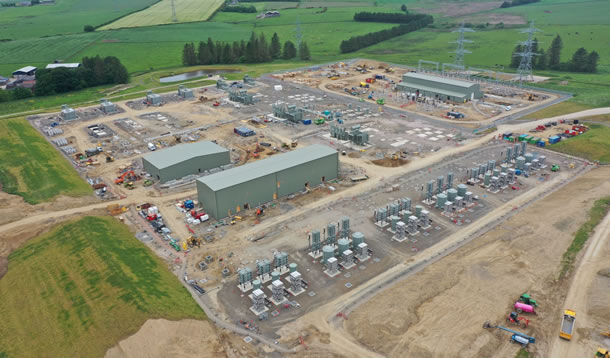 Scottish grid sees connections
Europe News
- November 2020
- Image: Courtesy of Moray East offshore windfarm
Siemens Energy has announced that work to install the onshore cable to connect the 950MW Moray East offshore wind farm to the Scottish grid is complete.
The cable, which starts near Banff, Aberdeenshire, takes the power generated offshore from the three 220kV subsea cables, and transmits it to the new onshore substation at New Deer.
The work began in October 2018, and required 300,000m of high voltage cable, manufactured by Poland's TFKable and installed by VolkerInfra.
The onshore cable is a vital part of the wind farm, bringing the energy generated offshore into the onshore substation and into people's homes, said Mark Pilling, head of transmission solutions, Siemens Energy UK&I. Using horizontal directional drilling has not only limited the environmental impact of the project, but also removed a large amount of disruption to people's lives in this rural area. It is likely most people will not know that 34km of cable has been laid through the landscape.
Three super grid transformers and shunt reactors are now commissioned, with works to install, commission and test the high voltage cables in progress. Currently around 245 people are working on-site, with all work due to be finalized onshore in the first half of 2021.