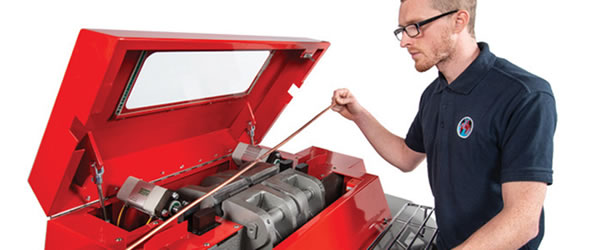 Encore orders more
Europe News
- June 2022
- Image: PWM's EP500 electro-pneumatic rod welder
British company PWM Ltd is to supply Encore Wire of McKinney, Texas, USA, with another three EP500 cold pressure welding machines.
Encore Wire, which took delivery of nine EP500 cold welders in 2021, has ordered the additional machines as part of its ongoing drive to invest in technology that creates a safer and healthier working environment for employees.
John Rhoads, research and development manager at Encore Wire, said, Cold welding has been used in the stranding process for decades and with the EP500 we are now also able to cold weld copper and aluminum rod. This technology eliminates the need for a large energy source, and with no hot surfaces, sparks or fumes involved, the operator is not at risk of getting burned. The EP500 is user friendly, reliable and clean, and the safety control/gates prevent pinch points from the beginning to the end of the welding operation.
PWM managing and sales director Steve Mepsted said, We're delighted to be working in partnership with Encore Wire and Joe Snee Associates, our US and Canadian distributor. Sales of the EP500 more than doubled in 2021 and we are experiencing high demand again this year.
The electro-pneumatic EP500 is PWM's best-selling cold welder. Suitable for rod from 5 to 15mm (0.197" to 0.59"), the machine is semi-automatic, energy efficient and low maintenance.
PWM Ltd has been designing and making cold welding machines and dies (industry standard and custom-made) for the global wire and cable industry since 1984. Its products are precision engineered in-house and tested to stringent quality standards.