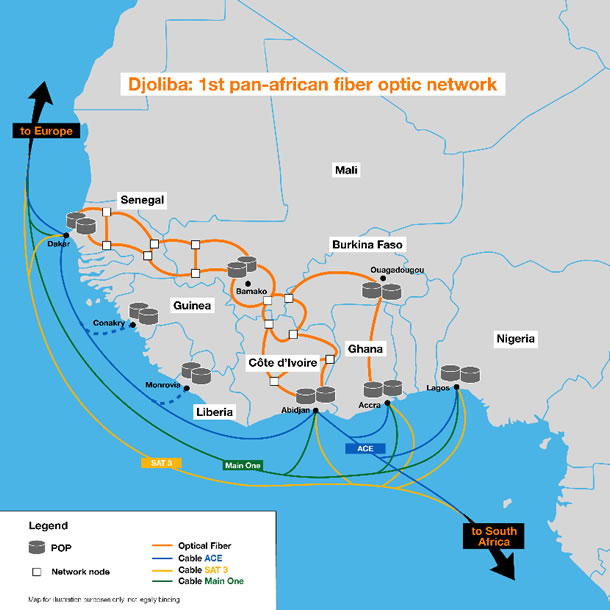 First pan-West African fiber network
Asia & Africa News
- November 2020
- Image: Courtesy of Orange
Orange and its subsidiaries have announced the commercial launch of Djoliba, the first pan-West African fiber backbone connecting the capitals of Burkina Faso, Côte d'Ivoire, Ghana, Guinea, Liberia, Mali, Nigeria and Senegal. The cities are natively interconnected with their country's domestic networks, which will centralize connectivity access for operators and companies.
Alioune Ndiaye, chief executive officer of Orange Middle East and Africa, said: Orange is actively contributing to the development of undersea and terrestrial infrastructure [to] enable the African continent's digital transformation.
The new infrastructure combines a terrestrial end-to-end fiber optic network with subsea cables for added security and resilience, as well as added redundancy, economies of scale and improved internet access. Operated and maintained from Dakar, the backbone will benefit from greater efficiency, responsiveness and proximity, as well as having a dedicated supervision center.
Djoliba is also the first cross-border network. Previously, operators have needed to integrate the solutions of various providers and join several different networks that were interconnected at the borders.
In all, Djoliba comprises 10,000km of terrestrial fiber, 10,000km of subsea cables, and over 300 points of presence across Europe, America and Asia. Broadband, at speeds of up to 100Gbps, will have a 99.99% availability rate.